Boat cruise on the Vltava
The Vltava River, at 430 kilometers, is the longest river in the Czech Republic. A boat cruise on the Vltava along Prague's landmarks is one of the highlights of a visit to Prague. Cruise on the "Bohemian Sea," as the Vltava is called, and enjoy the view from the water at any time of the day.
Boat Cruise on the Vltava | Sightseeing from the Water
The Vltava originates in the Bohemian Forest in the Czech Republic and flows as a mighty river through the Prague city center, the capital of the Czech Republic, continuing through the country until it eventually joins the Elbe River. The Vltava is known for its picturesque landscape and has high cultural significance, including its musical portrayal in Bedřich Smetana's composition "Vltava."
A boat cruise on the Vltava in Prague is one of the most popular tourist activities. From the water, you can admire the impressive architecture of the city and enjoy the sights along the river. During the cruise, you'll see landmarks such as the famous Charles Bridge, Prague Castle, and other historical buildings in the city. With the numerous attractions in the city, the Vltava provides an outstanding backdrop.
Landmarks along the Vltava in Prague
From the water, you can see some of the most beautiful landmarks and monuments in Prague. During a cruise on the Vltava, you'll see, among others:
The Dancing House
The Rudolfinum
The Ministry of Industry and Trade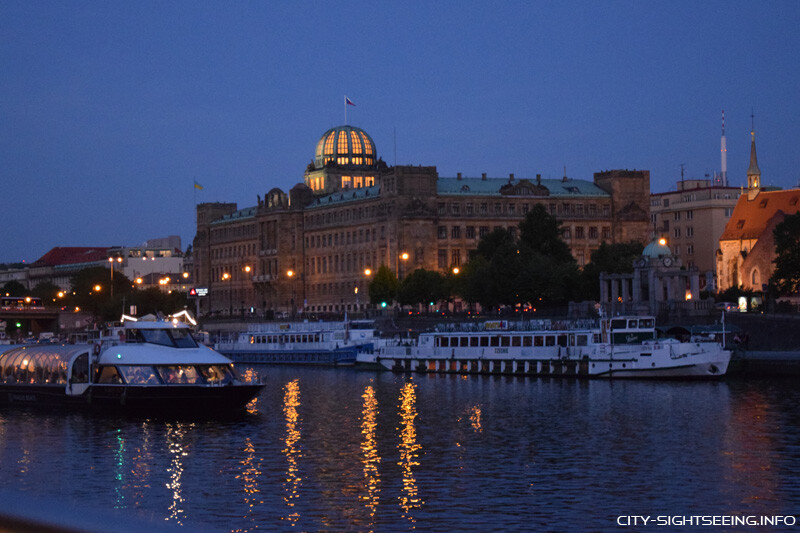 Tickets for Boat Cruises
There are various providers of boat tours offering different routes and durations. A boat cruise on the Vltava is a beautiful way to experience Prague from a different perspective and enjoy the city's atmosphere. Evening tours, in particular, featuring the illuminated landmarks of Prague, are popular and often sell out early. Therefore, it's worthwhile to purchase a ticket in advance.