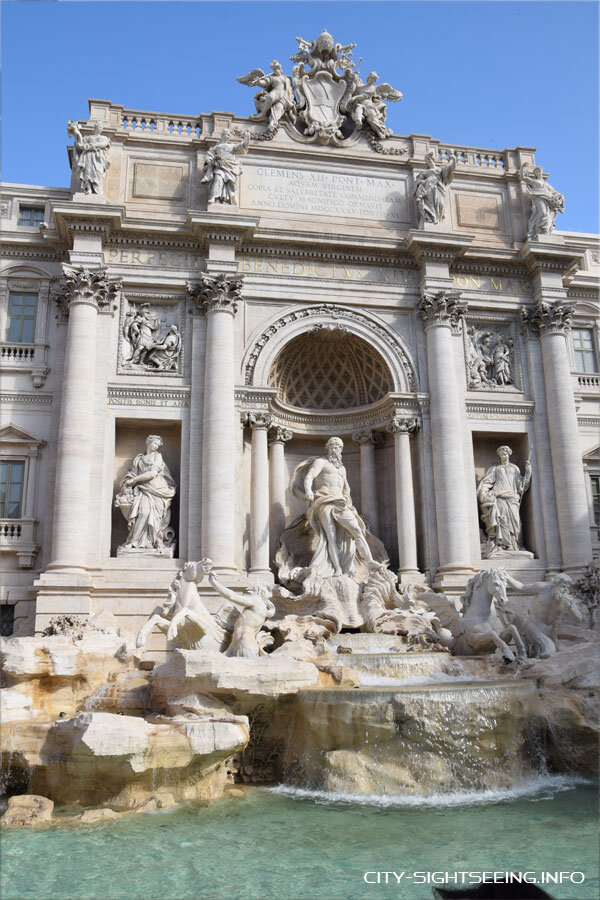 One of the most popular and well-known fountains in the world and thus one of the greatest attractions in Rome is the Trevi Fountain (Fontana di Trevi). At around 26 meters high and around 50 meters wide, it is also the largest fountain in Rome.
Trevi Fountain – the largest fountain in Rome
The fountain was built from 1732 to 1762 based on a design by Nicola Salvi. It is a late baroque fountain, in transition to the classical style. It was built following the Palazzo Poli. This was preceded by an architecture competition in which many well-known architects of the time participated and which was organized by Pope Clement XII. was awarded. The hitherto relatively unknown Nicola Salvi prevailed.

Architecture of the Trevi Fountain
The baroque Trevi Fountain consists of a palace facade with a triumphal arch in front of it. The full length of the facade of the fountain is based on the Palazzo Poli. In front of the palace facade there are sea figures on a rocky landscape, over which the water pours into a large, shallow basin. In the middle it is about the sea god Oceanus. The fountain is made of travertine from Tivoli and marble from Carrara.
The fountain is at the end of the Aqua Vergine aqueduct. This supplied ancient Rome with water.
It is a tradition to throw a coin into the fountain. According to legend, this is said to bring good luck. Do not miss your luck. The coins are regularly removed by Rome city officials. The money is to be donated to charity. Over the year it should be a sum of up to 1 million euros.
Address
Piazza di Trevi, 00187 Roma RM, Italy
Opening hours
The fountain is not subject to opening times.
Entry
Visiting the fountain does not cost anything.
Tickets & tours