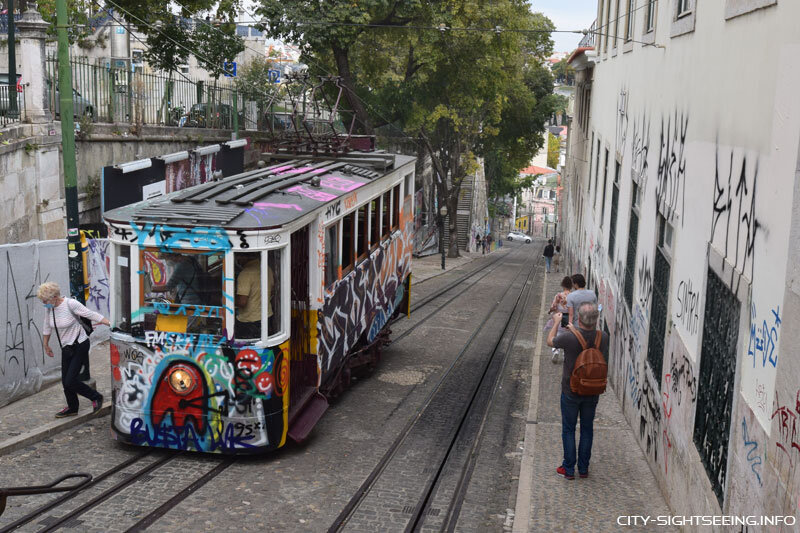 In Lisbon, the funiculars are one of the attractions of the city. They connect lower-lying parts of the old town with higher-lying parts of the city for locals and tourists alike and allow them to reach them with less effort. Anyone visiting Lisbon should therefore use one of the three funiculars.
Funiculars in Lisbon
Lisbon is very hilly. Sightseeing can be very exhausting. Luckily, there are three funicular railways and one passenger elevator, the Elevador de Santa Justa, in the city so that you can reach some passages with less effort. This allows the height differences of the city to be easily overcome. The funiculars – or – Ascensores e Elevadores – include:
Ascensor do Lavra – opened in 1884, length 182 m, difference in altitude 43 m, max. gradient 25.0%,
Ascensor da Glória – opened in 1885, length 265 m, difference in altitude 48 m, max. incline 18.0%,
Ascensor da Bica – opened in 1892, length 260 m, difference in altitude 45 m, max. gradient 19.1%
The trams themselves are reminiscent of the small trams, like the Eléctrico 28, in the city. The trains have been running up and down the hills for 100 years. Originally they were operated with water ballast. Later it became a steam drive and since about 1910 – 1914 they have been driven up electrically. They were used exactly where no horse trams could be operated because of the steep inclines.
For tourists, the trains are truly a sight and the ride is an experience. Therefore, using one of these trains is actually a must when visiting Lisbon.
Visitors per year
As a means of public transport, the funiculars transport several thousand people a day.
address
Ascensor do Lavra, Calçada do Lavra 2 4, 1150-199 Lisboa, Portugal
Ascensor da Glória, Calçada da Glória 6, 1250-001 Lisbon, Portugal
Ascensor da Bica, Rua de S. Paulo 234, 1200-109 Lisboa, Portugal
Opening Hours
The trains run from around 7 a.m. to 9 p.m.
Ticket Prices
The funiculars, like the other forms of urban transport, belong to the Carris municipal transport company. You can use the trains with a day ticket, for example. The Lisboa Card is also valid. Of course you can also pay on the spot. A 2-person ticket for the funiculars costs around 4 euros.
Tickets