Eléctrico in the streets of Lisbon
An important landmark and attraction of Lisbon are the little yellow trams, the Elétrico, which transport locals and visitors around the capital. Line 28E connects the Alfama, Baixa and Lapa districts of downtown Lisbon with the Prazeres district. A tram ride is a must on a Lisbon city trip.
Through the capital with the Electrico 28 | Low Budget Sightseeing Tour
Trams have been running through the Portuguese capital since the 1930s. The line 28E of the Lisbon Tramway, Portuguese Carreira 28E dos Elétricos de Lisboa, is one of six lines of the Lisbon Tramway. Elétrico means tram in Portuguese. The E stands for it.
With a cheap day ticket you have a cheap all-day sightseeing tour alternative and can visit many of the city's sights. Beware of pickpockets, however, who will take advantage of the narrowness.
Route of the Electrico 28
The tram has its final stops in Martim Moniz and Campo de Ourique. Between the two squares, Tram 28 runs a lot of stops in close proximity to the city's top sights. On its regular route, the 28E passes numerous sights in Lisbon. The starting point is the Praça Martim Moniz at the foot of the Castelo de São Jorge. The train runs past many sights to Campo de Ourique. Among other things, you will see the Parliament, Bairro Alto and the Castle of São Jorge on the route. They also pass through various picturesque districts, the Graça, Mouraria, Alfama, Baixa, Chiado and Madragoa. Due to the many stops you can get off at any time and visit the sights.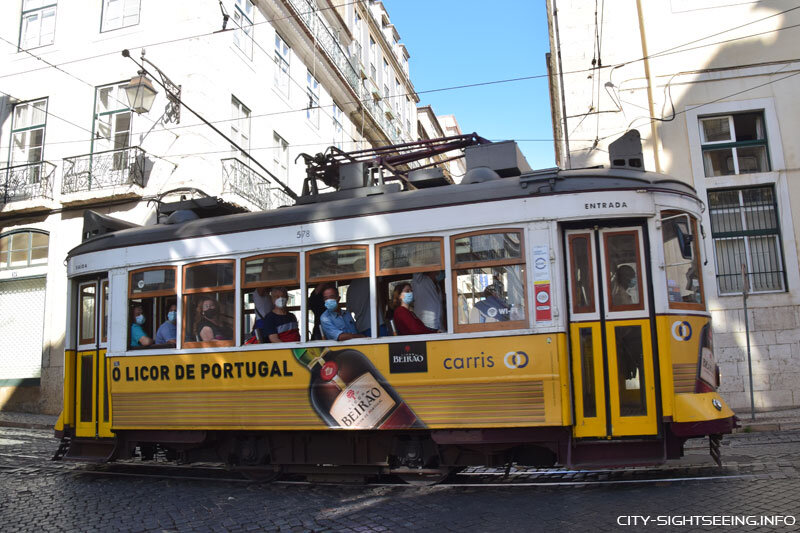 Visitors per year
Thousands of tourists alone use the trams every day. There are also locals. As a result, the lanes are often very full and it is difficult to get a seat. Ride early in the morning or board directly at the start/end stops to get a good seat.
address
In Lisbon, everywhere where the Electrico 28 runs.
Opening Hours
The first train leaves at 6 a.m. in the morning, the last train at around 10:30 p.m.
Ticket Prices
The Electrico 28 is part of Lisbon's public transport system and can be used with a regular ticket. It is advisable to buy a day ticket. Alternatively, you can take the less crowded Tourist Red Line, which can be used with a hop-on hop-off ticket. You can also use the trains for free with the Lisboa Card.
Tickets