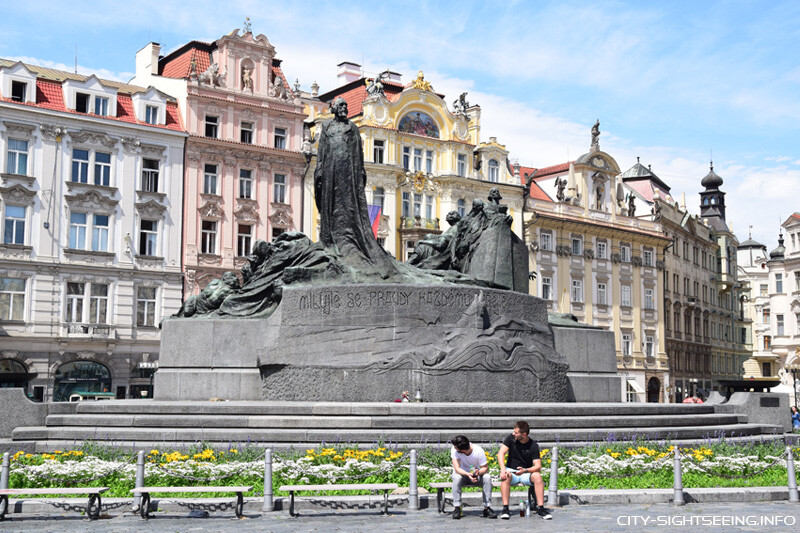 The Jan Hus Monument, a work by the Czech sculptor Ladislav Šaloun, is located on the Old Town Square in Prague, in close proximity to the Prague City Hall and the Prague Astronomical Clock. It is one of the most significant landmarks of the city.
Jan Hus Monument – at the Old Town Square
A stroll across the Old Town Square in Prague inevitably leads to the Jan Hus Monument, a national cultural monument that commemorates the burning of Jan Hus at the stake in Constance. It was unveiled on the five-hundredth anniversary in 1915 and is considered one of the outstanding works of Art Nouveau sculpture in Czech art.
This bronze Art Nouveau monument rests on a powerful, elliptically shaped granite base. It is dominated by the imposing figure of Jan Hus, rising above the burned stake. His gaze is directed towards the Týn Church, which in the 15th century was the main church of the Hussites.
Jan Hus was a Czech theologian, philosopher, and reformer who lived in the late 14th and early 15th centuries. Born in South Bohemia in 1369, Hus criticized the Catholic Church for its abuses, particularly the sale of indulgences, and advocated for a reform of the church based on biblical principles. Condemned as a heretic, Hus was burned at the stake in 1415 at the Council of Constance.
Address
Staroměstské nám., 110 00 Staré Město, Czech Republic
Opening Hours
The Jan Hus Monument is freely accessible and can be visited at any time.
Tickets & Tours