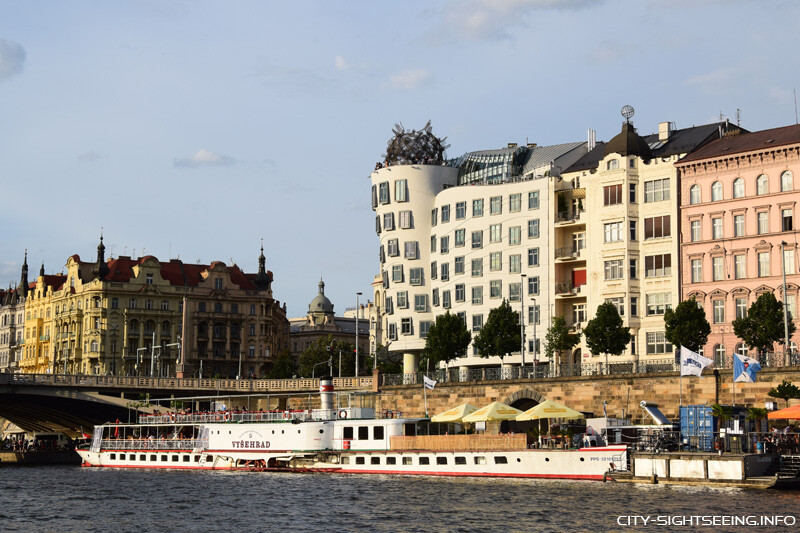 Prague impresses not only with its historic Old Town but also with contemporary architecture, including the Dancing House on the Vltava River. Built in 1996, this structure stands as an outstanding example of modern Prague architecture. It offers visitors a welcoming atmosphere with a gallery, a restaurant, and a bar with a rooftop terrace. The Dancing House is one of Prague's most significant landmarks, where tradition and modernity harmoniously blend.
Dancing House | by Architects Vlado Milunić and Frank O. Gehry
The Dancing House, an architectural masterpiece, was designed by globally renowned architects Vlado Milunić and Frank O. Gehry. The foundation stone for this extraordinary building was laid on September 3, 1994, and within just two years, a modern structure emerged on an area of about 2,965 m². In place of the original residential building that existed until 1945 when it was destroyed by American bombers, now stands the fascinating Dancing House.
The architects drew inspiration for the design from the dance artistry of the famous film duo Fred Astaire and Ginger Rogers. The stone tower represents Fred Astaire, while the glass tower represents Ginger Rogers. Due to this symbolic representation, the building is affectionately referred to as "Ginger and Fred." It not only combines innovative architecture but also serves as an artistic homage to the world of dance.
The Dancing House now serves a diverse range of purposes. The building houses a hotel, a gallery, and a luxurious restaurant with a terrace and breathtaking views. From the rooftop terrace, visitors can admire Prague in 360 degrees and savor the impressive cityscape.
Address
Jiráskovo nám. 1981/6, 120 00 Nové Město, Czech Republic
Tickets & Tours