The Roman Catholic Matthias Church is located in the Castle District of Vár and is one of the most important sights in Budapest. It is the first church on the Castle Hill and part of the UNESCO World Heritage. It rises on the Trinity Square in the old town of Buda with its magnificent building with colorful glazed roof tiles. Adjacent is the Fisherman's Bastion and the ornate baroque Plague Column.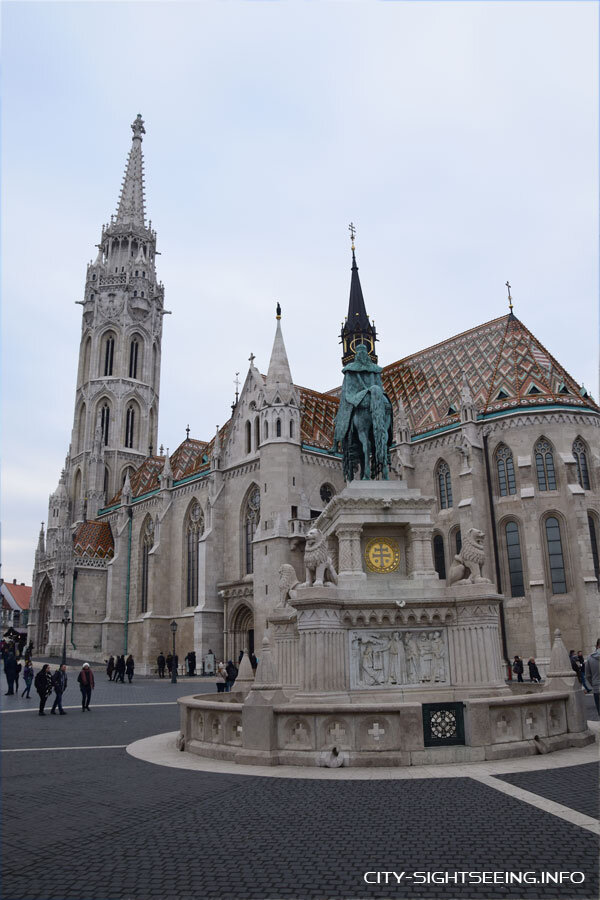 Matthias Church in Budapest – UNESCO World Heritage
The church was built by King Béla IV in the mid-13th century. She had a Romanesque basilica built. After the Mongol invasion, Béla IV had castles built in strategically important places to protect the population in the future. The most important of these was the Buda Castle. In this context, the Matthias Church was built as a church for the German citizens of Buda. The basic form of today's church goes back to this basilica.
The church has been rebuilt and expanded several times throughout history. It got its current neo-Gothic appearance from the reconstruction by Frigyes Schulek in 1873-1896. The church is named after King Matthias Corvinus (1458-1490). He had the church expanded in 1470 with a five-storey tower and the royal oratory.

Matthias Church – Coronation Church
The Matthias Church is also called the Coronation Church, since important coronations took place here. Among others, the coronations of Charles I Robert of Anjou (1309), Franz Joseph I (1867) and Charles IV (1916). The church now serves as the Cathedral of the Hungarian Military Ordinariat.
number of visitors per year
There is no information on this.
address
Budapest, Szentháromság tér 2, 1014 Hungary
opening hours
Monday to Friday, 9 a.m. to 5 p.m Saturday 9:00 a.m. to 1:00 p.m Sunday 1:00 p.m. to 5:00 p.m
ticket prices
Entry costs around 16 euros.
tickets