One of the best sights of Budapest is St. Stephen's Basilica in the Pest district. It has been the largest church in the Hungarian capital since its inauguration in 1905 and one of the city's most sought-after sights ever since.
St. Stephen's Basilica
The largest church in the Hungarian capital was dedicated to the first Hungarian king, whose mummified right hand is considered one of the country's most sacred treasures. It is also co-cathedral of the Roman Catholic Archdiocese of Esztergom-Budapest. Since 1987 it has been registered as part of the Danube panorama in the UNESCO World Heritage.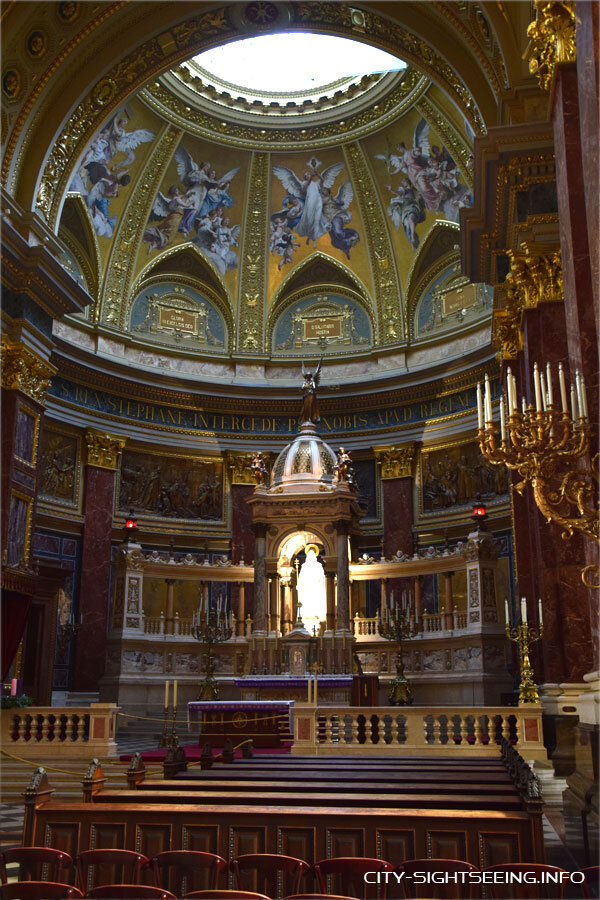 In 1851 the construction of the basilica began according to the plans of József Hild in the classical style, but he died a few years later. After the dome collapsed due to faulty foundations in 1868, the construction management was handed over to Miklós Ybl. He continued to build the church in the neo-renaissance style. This also died a few years later, which led to another change. József Kauser completed the construction.

The church building is approximately 92 m long and 62 m wide and can accommodate up to 8500 people inside.
St. Stephen's Basilica – Dome Tour
A real highlight is a visit to the dome. From there you have a great panoramic view over Budapest. The dome balustrade is open to visitors. You can either walk up 297 steps or take a modern elevator to get to the dome.
Address
Budapest, Szent István tér 1, 1051 Hungary
Opening hours
Monday to Friday, 9 a.m. to 5 p.m.
Saturday 9 a.m. to 1 p.m.
Sunday 1.00 p.m. to 5.00 p.m.
Tickets & tours
The church dome offers a panoramic view of Budapest. If you visit the church, don't miss this view.