An important sight of Lisbon, which can be seen from afar, is the Castle of São Jorge. The Castle of Lisbon towers over the city, from which one has a fantastic view over the city.
Castelo de Sao Jorge | Royal Castle
The castle was built by the Moors. The location of the castle was chosen in such a way that access was the most difficult for the attackers, taking advantage of the natural slopes to the north and west. Alfonso the Conqueror conquered it in 1147. It was then used as a royal castle for several centuries and served to defend the city. In 1755 a large part of the castle complex was destroyed by an earthquake. Translated, the castle is called "Castle of St. George".
The facility covers around 6,000 square meters. Today you can still discover a lot on the Arial. In addition to the ruins of the castle – towers, guard posts, the pointed arch house and a moat, excavations from Phoenician, Roman and Moorish times as well as two large squares that invite you to linger, play boule or dominoes belong to the castle complex. There are also the remains of the Old Royal Palace and a permanent history exhibition.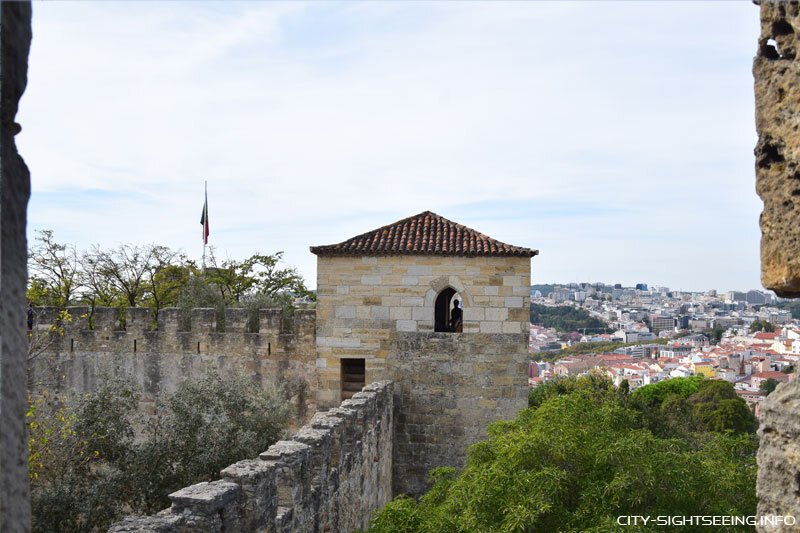 Castelo de Sao Jorge | View over Lisbon, the sights and the Tejo
You also have a breathtaking view from the Castelo de São Jorge. The viewing platform of the fortress allows a wide view over the entire city and the Tagus. Many sights can also be found very easily from here. It is one of the most beautiful vantage points in the city.
Visitors per year
There are no exact figures for this. However, it is one of the most important sights in the city.
address
R. de Santa Cruz do Castelo, 1100-129 Lisboa, Portugal
Opening Hours
The facility is open 7 days a week. Depending on the season, the opening times vary slightly. From November 1st to February 28th, the facility is open from 9 a.m. to 7 p.m. In summer, i.e. from March 1st to October 31st from 9 a.m. to 9 p.m.
Ticket Prices
from 10 €
Tickets