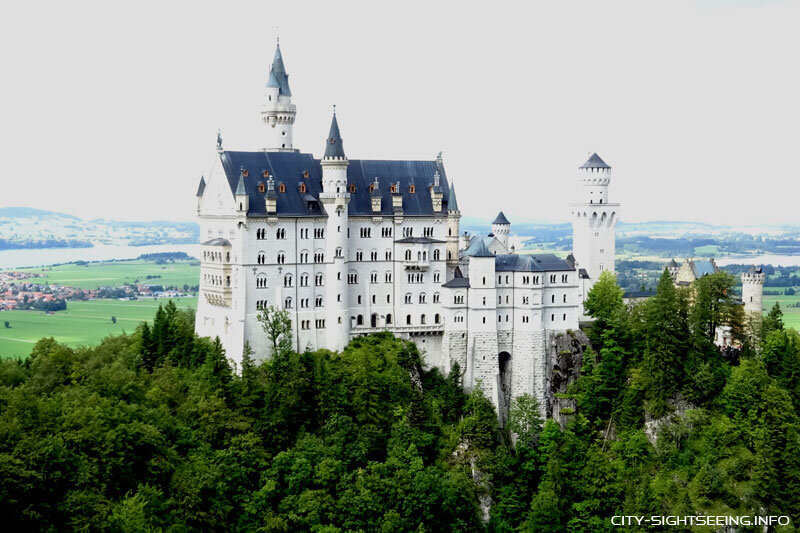 The Neuschwanstein Castle, created by King Ludwig II of Bavaria in Schwangau in the Allgäu, is the fairytale castle par excellence. It served as a template for the famous Disneyland Castle. Here you can get information, tickets and tours to the fairytale castle Neuschwanstein.
Neuschwanstein Castle | private retreat for King Ludwig II.
The idea for Neuschwanstein Castle came from King Ludwig II himself, who wanted the fairytale castle to be built as his private retreat. It was therefore never used as a representative building or to demonstrate power, but was intended to represent a monument to the culture and royalty of the Middle Ages. At the request of King Ludwig II, the palace was to become a medieval castle.
History and architecture
For this purpose, the first plans and preparations for the construction were already carried out in the years 1867/1868. However, the foundation stone was not laid until September 1869. The castle was built on a jagged rock 200 meters above the valley in a picturesque mountain setting.
The implementation was carried out by Eduard Riedel and Georg Dollmann in the style of the Romanesque of the 13th century. The wall paintings are based in part on the themes of Wagner's musical dramas such as "Tannhäuser" and "Lohengrin".
The castle consists of several individual structures, which were erected over a length of around 150 meters on the top of a rock ridge known as early youth. The overall picture of the elongated building is formed by the numerous towers, decorative turrets, gables, balconies, battlements and sculptures.
However, King Ludwig II died on June 13, 1886 before the construction work was completed. As a result, the castle was never actually completed. The castle was opened to visitors after his death. Today Neuschwanstein Castle is one of Germany's landmarks and one of the best sights in the world.

Interiors
The most important interiors of the palace include the singers' hall and the throne room.
The singers' hall is designed on the model of the ballroom in the Wartburg near Eisenach and includes, among other things. decorated with wall paintings for the Parzival saga.
In addition to Byzantine domed buildings, the sacred throne room was also modeled on the All Saints Court Church of the Munich Residence and symbolized Ludwig II's idea of ​​a kingdom by the grace of God. Neuschwanstein is not a copy of a medieval castle complex, but a characteristic new creation of historicism.
Address
Neuschwansteinstraße 20, 87645 Schwangau
Opening hours
Winter time: October 16, 2020 to December 30, 2020 / January 2, 2021 to March 26, 2021, Monday to Sunday 8:30 a.m. to 3:00 p.m.
Summer time: 27.03.2021 to 15.10.2021, Monday to Sunday 8:00 a.m. to 4:00 p.m.
Entry
You can find more information at www.neuschwanstein.de
Tickets & guided tours