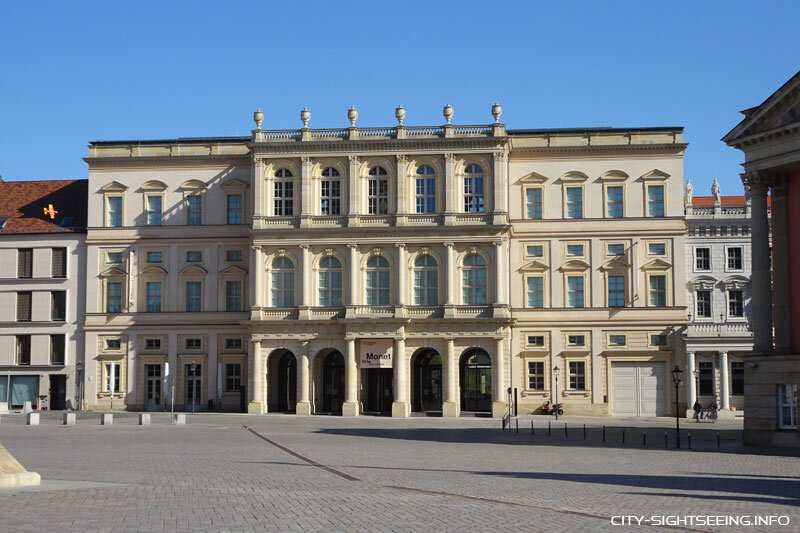 The Barberini Palace, built as a classicist-baroque town house on the Alter Markt in Potsdam, was rebuilt in 2016 after it was destroyed in the war. Since then it has once again been one of the most important sights in Potsdam. Today the palace houses the Barberini Art Museum. Here you can find information about history, among other things.
Barberini Palace – a classicist-Baroque town house designed by Carl von Gontard
The Barberini Palace was built under the Prussian King Friedrich II from 1771 to 1772 as a classicist-baroque town house based on plans by Carl von Gontard. The aim was to give the old market the image of a Roman square.
The model for the building was the Palazzo Barberini in Rome, which the king made the model, from which the building got its name. The Potsdam replica of the Italian model formed the monumental south-eastern end of the Old Market and was one of the last buildings built around the square under Friedrich II.
The building was expanded in the middle of the 19th century. Based on designs by Ludwig Persius and Ludwig Ferdinand Hesse, the Barberini Palace was extended by two rear side wings facing the Havel on behalf of King Friedrich Wilhelm IV and used as a place for cultural and club life in Potsdam.
Destroyed by air raid
The palace was largely destroyed in the air raid on April 14, 1945 and the ruins were torn down during the GDR era.
Reconstruction in the course of the redesign of the center of Potsdam
In the course of the redesign of Potsdamer Mitte with the reconstruction of the city palace as a new state parliament building and other buildings in the neighborhood, after donations by Hasso Plattner from 2013 to the end of 2016, the Barberini Palace was largely rebuilt to the original for use as an art house "Museum Barberini" .
Museum Barberini – Art house in the center of Potsdam
The Museum Barberini offers permanent and temporary art exhibitions throughout the year. Based on the works of the collection of the founder and patron Hasso Plattner, three changing exhibitions per year are presented with loans from international museums and private collections.
Exhibition program Museum Barberini in Potsdam
Information on current exhibitions at the Museum Barberini is available here:
Further information is available at: https://www.museum-barberini.com
Photo info: Potsdam, Barberini Palace from the north-west, photograph from 1907. scanned from: Peter Herrmann / Peter Rogge: Walks through Potsdam. Photographs from the Eichgrün studio between 1890 and 1952, Potsdam 2010, ISBN 978-3-00-032409-3 (By Ernst Eichgrün (1858-1925) [Public domain], via Wikimedia Commons)
Address of the Barberini Palace
Humboldtstraße 5-6, 14467 Potsdam