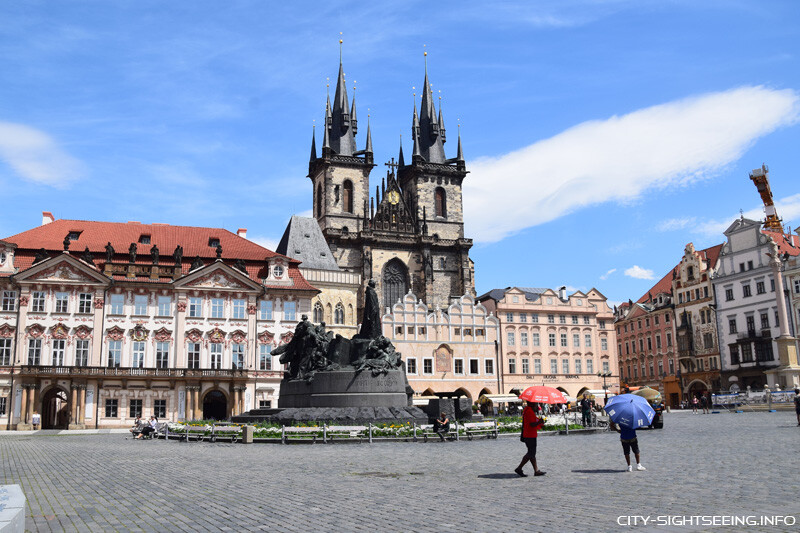 The Old Town Square, covering an area of about 9,000 square meters, forms a central and impressive square in the city center of Prague. As one of the most significant landmarks in the city, the square is framed by magnificently adorned facades of surrounding buildings, inviting visitors to enjoy the atmosphere in one of the numerous cafes and restaurants.
Old Town Square | Oldest and Most Significant Square in Prague
The Old Town Square is the oldest and most significant square in Prague. It is surrounded by historic buildings of various architectural styles, including particularly beautiful Renaissance and Baroque houses. In the 10th century, when the square was still used as a market, the first houses were built here. In some cellars, one can still see the Romanesque and Gothic foundations to this day. The Old Town Square served as a marketplace for a variety of goods, including fish, meat, spices, vegetables, fruits, dairy products, and wooden goods.
Today, there are numerous landmarks here:
Prague City Hall
House at the White Unicorn, House at the Minute
Goltz-Kinsky Palace, a Rococo palace built from 1755 to 1765, which served as a German-language gymnasium and was visited by Franz Kafka. Today, the house belongs to the Prague National Gallery
Jan Hus Memorial, memorial for the five hundredth anniversary of the burning of Jan Hus at the stake in Konstanz
Teynkirche, Gothic Church of the Virgin Mary before Tyn
St. Nicholas Church, Baroque church on the Old Town Square
House of the Stone Bell, one of Prague's most valuable Gothic monuments, built as a magnificent urban residence for the Bohemian royal couple in the 14th century
Marian Column, erected at the end of the Thirty Years' War on the order of Emperor Ferdinand III
Prague Meridian, a marker located at the coordinates 14°25′17″ east of Greenwich on the Old Town Square. You can find it near the Jan Hus Memorial. It has been used since 1652 to reliably indicate when the sun is in zenith, i.e., when it is noon.
Nearby: Illusion Art Museum
Since 1962, the Old Town Square has been officially declared a national cultural monument.
Address
Staromestské námestí, 110 00 Prague
Tickets & Tours