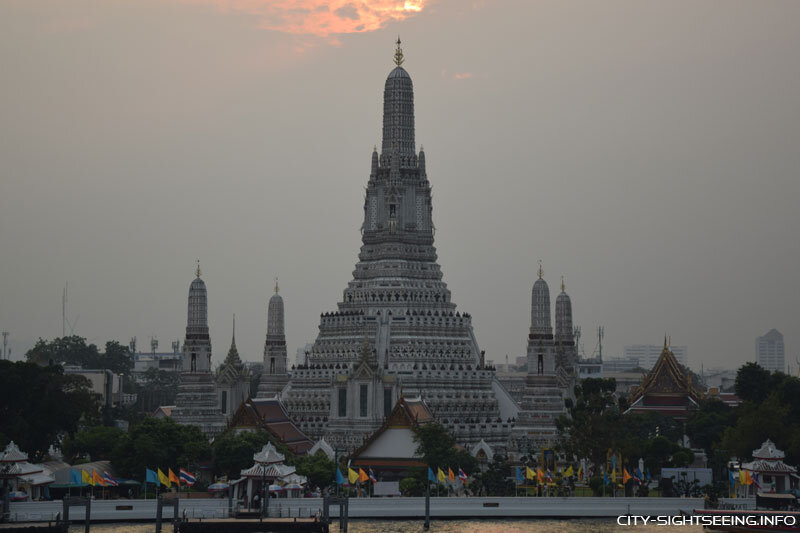 Wat Arun, the Temple of Dawn, is a Buddhist temple (wat) in Bangkok's Bangkok Yai district. It is located on the western bank of the Mae Nam Chao Phraya (Chao Phraya River) and is one of the most important sights of Bangkok.
Wat Arun | Temple of Dawn
The temple can be seen from afar and, due to its striking construction and appearance, is not only one of the most popular sights, but also one of the most important landmarks in the city. The temple is named after Aruna, the Hindu god of dawn. The temple was dedicated to this figure from Indian mythology. The Wat Arun is a first class royal temple.
Wat Arun was built during the Ayutthaya period and was originally called Wat Makok. With the construction of King Taksin's new palace in 1768, the temple and Wat Tai Talad were included in the palace grounds and renamed Wat Chaeng. Over time, the temple has been restored and expanded. The Prang, which was only 16 m high at the time, was also increased to its current size. The temple temporarily housed the Emerald Buddha, which was captured in Vientiane, until it was later moved to a new temple across the river.
Building of

Wat Arun

The building comprises several elements: The central Prang, dthe small Wihan, dhe archway with crown, dhe ordination hall, Chinese pavilion Sala Tha Nam, d span>er Wihan and the Mondop with two three-story bell towers.

The height of the prang of the building is given with different information in different sources. The temple is approximately 80m high with a circumference of 234m. The beautiful appearance of the building results from a mosaic of colorful Chinese porcelain and shells covering the entire building. A total of around one million parts, which are arranged in flower patterns, give the building its appearance.
Visitor numbers
There are no figures for this.
Address
PFVQ+FH9, 158 Thanon Wang Doem, Wat Arun, Bangkok Yai, Bangkok 10600, Thailand
Opening Hours
The facility can be visited daily from 8 a.m. to 6 p.m.
Tickets
Tickets & Tours