One of the most important sights in New York is Times Square in Manhattan. It is the most visited place in Manhattan and one of the most popular tourist attractions in New York. Broadway in New York is the musical and theater mile. We give you all the important information about the place.
Times Square – the theater district of Manhattan
Times Square in New York City was named after the T.S.1 building used by the New York Times newspaper. Located at the intersection of Broadway and Seventh Avenue, it extends from West 42nd Street to West 47th Street.
It forms the center of the theater district of Manhattan, which is also known as Broadway. Since the 1930s, The Square has been officially divided into two sections. The south end kept the name Times Square and the north end was renamed Duffy Square.
The square is also famous for its numerous neon signs. Times Square is often referred to as The Crossroads of the World, The Center of the Universe, The heart of the Great White Way – the latter is a name for the theater district around Broadway – or The Heart of the World. That's why you should definitely visit Time Square at night.
Visiting the Times Square is overwhelming. In addition to the breathtaking scenery, you can meet a lot of people dressed up as Disney characters or other celebrities on the square.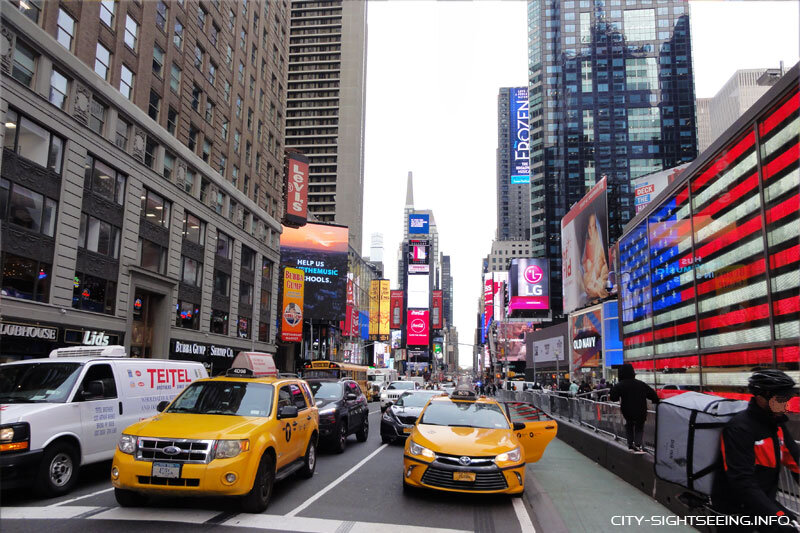 Major sights in Times Square
Around 40 theaters can be found in New York's famous theater district. You will also find a large number of cafes, fast food chains and souvenir shops, but also luxury restaurants, multiplex cinemas, the MTV studios, Sony and Vogue. There are also a lot of themed restaurants to be found. These include, for example, the Hard Rock Café, Bubba Gump and Planet Hollywood. Enjoy it when you take a break.
There are a number of museums in and around Times Square:
Madame Tussauds
Ripley's Believe It or Not!
Gulliver's Gate
But as mentioned at the beginning, the large number of theaters give the theater district its name. Therefore musical fans should not miss the place under any circumstances. Broadway musicals will be performed in the theaters every night. Not only the great classics, but also the most modern productions. The almost 40 theaters are spread over an area of ​​around 12 blocks around Time Square. Most can accommodate at least 500 guests. The most important are:
Broadway Theatre
AMC Movie Theatre
New Amsterdam Theatre
Gershwin Theatre
Majestic Theatre
Lyric Theatre
Minskoff Theatre
Marquis
Winter Garden Theatre
And many more. There is sure to be something suitable for every visitor.
Opening hours
none, the place is accessible at all times
Entry
free of charge
Address
Manhattan, NY 10036, Vereinigte Staaten
Tickets and tours