At the mouth of the Tagus in the district of Belém you will find the Torre de Belém. It is one of the most famous landmarks and sights of Lisbon. It has also been part of the UNESCO World Heritage since 1983.
Torre de Belém – Lighthouse
The Torre de Belém – translated as the Tower of Belém – was built in 1521 and used to serve as a lighthouse, guiding incoming ships safely into the port of Lisbon. It dates from the time of the Portuguese King Manuel I. King Manuel I commissioned the lighthouse in 1515, but it was not completed until the king's death in 1521. Originally there was a second tower on the opposite bank, a twin tower. This and many other buildings from this period were destroyed in an earthquake in 1755. The tower is therefore one of the few buildings of Moorish architecture that survived the earthquake unscathed.
In addition to its function as a lighthouse, it also served as a defense. The twin turrets allowed enemy ships to be caught in the crossfire as they arrived. Later in the 19th century the tower also served as a prison and armory.
Today the lighthouse symbolizes the heyday of the Portuguese maritime and commercial empire.
Viewing platform on the Torre de Belém
The Torre de Belém is a testimony to my architecture and a unique relic of Portuguese architecture. He has Moorish influences. Since it dates from the formative period of King Manuel, it is also referred to as a Manueline Gothic style. The southern facade is richly decorated with royal symbols. The mixture of building arts can also be found on the battlements on the roof and the narrow towers of the Torre.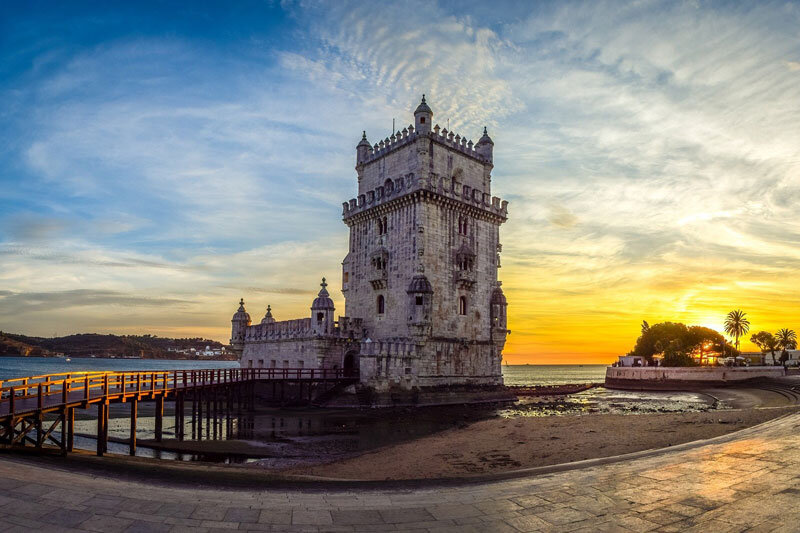 On the north-west side of the tower is a relief of a rhinoceros. It is the first image of the animal in Europe. It was Portuguese seafarers who brought this image to Portugal.
Today, after almost 300 years, you can visit the tower. The upper floor of the tower, 35 meters high, serves as a viewing platform that can be visited. From there you get a unique view over the estuary and the district of Belém.
Visitors per year
There are no figures for this.
address
Av. Brasilia, 1400-038 Lisbon, Portugal
Opening Hours
October to May Tuesday to Sunday from 10 a.m. to 5.30 p.m.,
May to September Tuesday to Sunday from 10 a.m. to 6.30 p.m
Ticket Prices
Tickets cost €6, with the Lisboa Card you can visit the tower for free.
Tickets