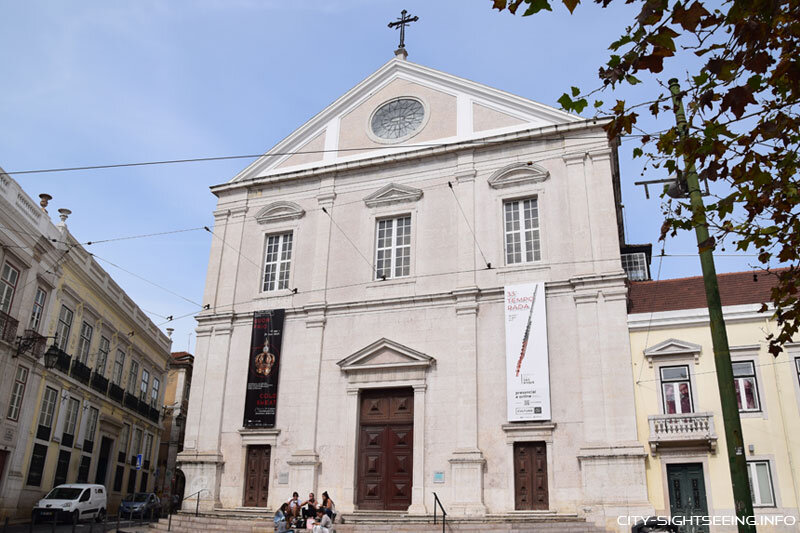 The Jesuit Church, Igreja de São Roque, which is rather plain from the outside, is one of the most magnificent churches on the Iberian Peninsula. This makes it one of the most important sights in Lisbon.
Igreja de Sao Roque | Jesuit Church in the Bairro Alto district of Lisbon
The church, which is located in the Bairro Alto district of Lisbon, is a Jesuit church completed in 1596. Unlike many other buildings in the city, it was not destroyed by the devastating 1755 earthquake. Due to the unique chapel of São João Baptista, it is one of the most magnificent churches in Portugal and in the world. Translated, the church is called St. Rochus Church. The patron saint of the church was St. Roch of Montpellier.
The church was commissioned as early as 1566. The church is a rather simple, single-nave hall church in the Renaissance style.
São João Baptista Chapel
The showpiece that makes the church stand out is the fourth chapel, São João Baptista (St. John the Baptist). Decorated with gold, ivory and precious stones, this chapel is one of the most magnificent Catholic church chapels in the world. Around 100 Italian artists were involved in the construction of the chapel, including Nicola Salvi, who designed the Trevi Fountain in Rome. The designs go back to the famous Luigi Vanvitelli. It was consecrated in 1744 by Pope Benedict XIV and then brought to Lisbon.
Adjacent to the church is also a museum, in which works of art are also exhibited. The Museo de Arte Sacra de São Roque (Eng. "Museum of Sacred Art") used to serve as a poorhouse and foundling hospital.
Address
Largo Trindade Coelho, 1200-470 Lisboa, Portugal
Opening hours
Daily from 10 a.m. to 6 p.m. The opening times differ slightly in the summer and winter months. Before you visit, find out about the opening hours.
Ticket Prices
Tickets are available from 2.50 euros.
Tickets