The oldest and most important church in Lisbon is the Catedral Sé Patriarcal in the old town district of Alfama. It is one of the most beautiful sights in the city and a visit should not be missed during a stay in Lisbon. The church is also called Igreja de Santa Maria Maior.
Catedral Se Patriarchal | Main Church of the City of Lisbon
Originally there was a mosque instead of the church. After the conquest of the Castelo de São Jorge by Alfonso the Conqueror, later King of Portugal, after the expulsion of the Moors, he began building work on the church in 1147 in place of the mosque. It is therefore the oldest church in the city. It is also a symbol of Christian reconquest.
The church was built in Romanesque style. However, the Catedral Sé Patriarcal has been modified and expanded several times over the centuries. This was mainly due to the destruction caused by two earthquakes. It fell victim to the earthquakes of the 12th and 18th centuries. But the kings have also made changes to the church over the course of history. Over time, the Gothic style has increasingly come to the fore. Today it is a mix of different architectural styles.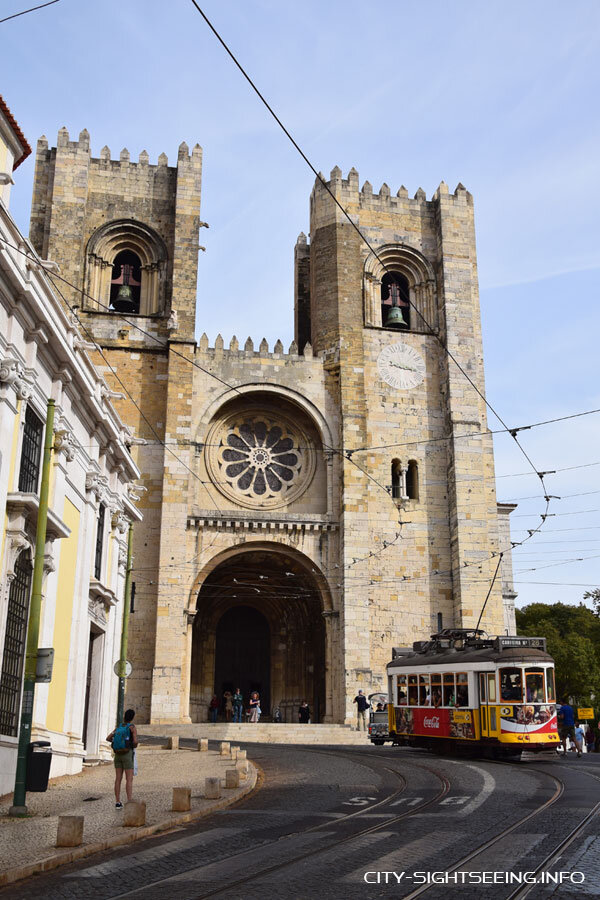 The west facade was built in the Romantic style from 1380. Inside there are elements of romanticism and gothic. The ceiling painting was painted in the Baroque style. The organs also date from this period. Some structural changes were also withdrawn over time. It is visually similar to the Notre-Dame de Paris cathedral, which was built in the same era.
It is the main church of the city of Lisbon and the Cathedral of the Patriarchate of Lisbon.
Catedral Se Patriarchal | Fortress and Church
The two bell towers are characteristic of this era. They were used for defense, similar to a fortress. This crenellated twin tower facade makes a very fortified impression. This was very typical of that time.
Inside you will find a baptismal font, which is said to date from the 12th century. According to tradition, Saint Anthony was baptized here in 1195. There is also an archaeological exhibition and the remains of ancient buildings in the church. The treasury of the cathedral with ecclesiastical jewels and relics of St. Vincent, the patron saint of Lisbon, is also located here.
Visitors per year
Information on the number of visitors is not available.
address
Largo da Sé, 1100-585 Lisbon, Portugal
Opening Hours
Monday to Saturday, 10 a.m. to 6 p.m
Ticket Prices
Admission to the church is generally free. The cloister and the treasury cost one entry.
When masses are taking place, the cathedral is closed to the public.
Tickets