Kaiser Wilhelm Memorial Church
The Kaiser Wilhelm Memorial Church on Breitscheidplatz in the Berlin district of Charlottenburg, near the Berlin Zoo, Kurfürstendamm and KaDeWe, is one of the city's most famous landmarks. The church was badly damaged in World War II. Today there is still a 71 meter high tower ruin as a memorial against the war. The tower ruins were supplemented with a new four-part building ensemble. It is one of the best sights in Berlin. Here you can get information about the church.
Kaiser Wilhelm Memorial Church | History and architecture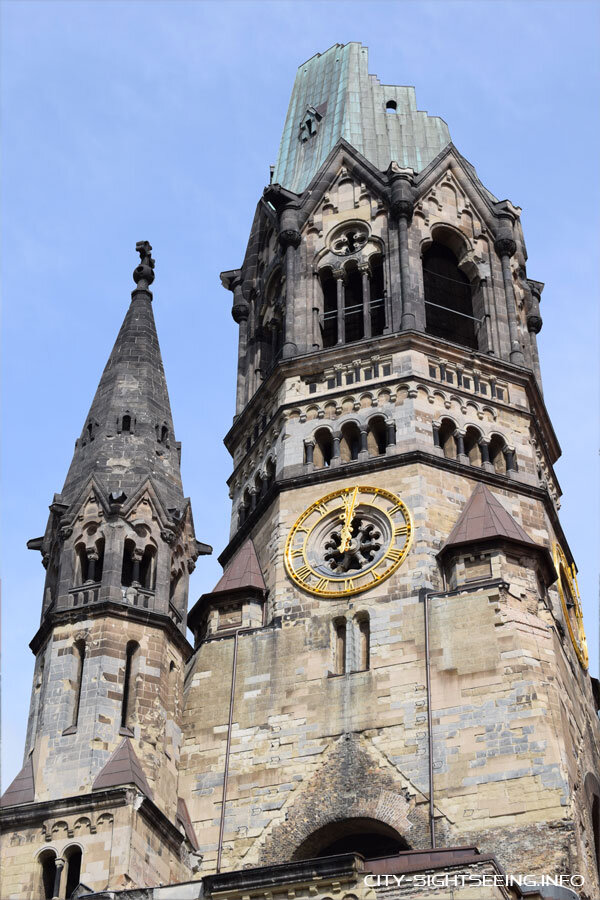 It was Kaiser Wilhelm II who initiated the construction of the church in the years 1891–1895. This took place as a religious memorial in honor of his grandfather, Kaiser Wilhelm I. The Protestant Kaiser Wilhelm Memorial Church was built by Franz Schwechten in the neo-Romanesque style and at that time had five towers. At 113 meters, the church tower at that time was the highest in the city. The church also had a splendid interior with many mosaics and murals. The church was consecrated on September 1st, 1895.
Bells of the Kaiser Wilhelm Memorial Church
The Memorial Church had five bells of different sizes and weights. The bells were made of bronze and were made from guns captured in the Franco-Prussian War. In the Second World War, however, they were melted down again for war purposes. Today the hexagonal bell tower has a new bell ring consisting of six bronze bells.

Tower clock
The church clock is particularly beautiful. It was brought up to date with the latest technology after the war. The illuminated clock hands are a special feature.
Destruction and reconstruction with a 71 meter high tower ruin
During the Second World War, the Memorial Church, like other structures, was badly damaged. For a long time there was a dispute about the reconstruction and in what form. It was agreed to preserve the 71 meter high tower ruin as a memorial against the war and to demolish one and the nave. Instead, a new four-part building ensemble was built. This consists of a nave, the church tower, the chapel and the foyer. The German architect Egon Eiermann implemented this in the modern style from 1959 to 1963.
The grid walls, which consist of more than 20,000 unitary glass windows that can be illuminated with LEDs, are characteristic of the new building.
The church is now used for services and events, and there is also a small museum inside the old part of the church.
Visitor numbers
The Church is one of the most visited places in Berlin with 1.3 million visitors every year.
Opening hours
Church daily from 10 a.m. to 6 p.m.
Memorial hall: daily from 12 p.m. to 5.30 p.m.
Address
Budapester Straße 50
10789 Berlin
Tours to the Kaiser Wilhelm Memorial Church