Sacré-Coeur de Montmartre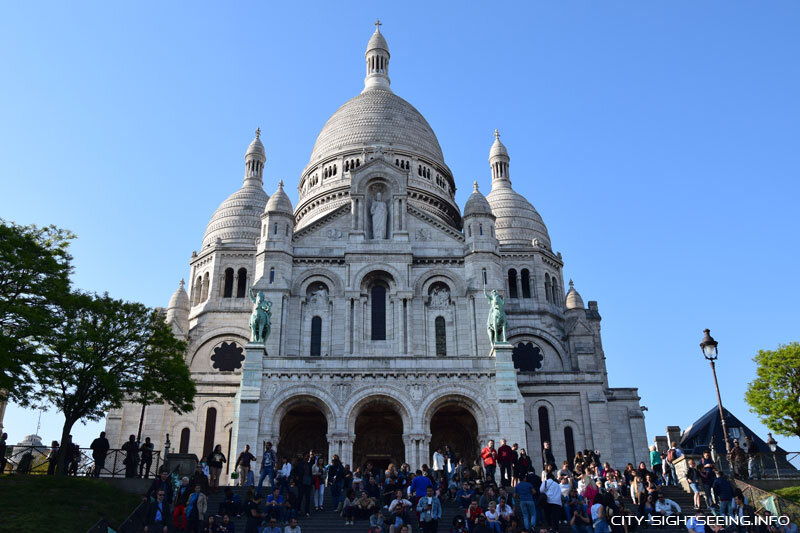 In the Montmartre district in Paris you will find the Sacré-Cœur de Montmartre Basilica. The gleaming white church can be seen from afar and is one of the most important landmarks and most visited sights in Paris. Here you can find information about the attraction.
Sacré-Cœur de Montmartre in Paris
The Basilique du Sacre Coeur, in in English "Sacred Heart Basilica", is located in the Montmartre district of Paris – and on the 130 meter high Montmartre hill. The Roman Catholic pilgrimage church was built in the neo-Byzantine style between 1875 and 1914. In 1919, after the First World War, the church was consecrated. It is consecrated to the Sacred Heart of Jesus.

The construction of the historic church was started in 1875 by the French builder, restorer and architect Paul Abadie, but was not completed until 1914. He was inspired by Roman-Byzantine churches, such as the Hagia Sophia in Istanbul and St. Mark's Basilica in Venice and the Cathedral of Périgueux. Architecturally, the church is not a basilica, but a cross-domed church.
The church is 83 meters high. The large dome alone is 55 meters high. The foundations should reach 33 meters into the ground so that the church does not sink due to the soil conditions. The three-arched main portal is flanked by equestrian statues. They form the national saints Jeanne d'Arc and Louis IX. from.
The largest mosaic in France can be found inside the building. It decorates the ceiling with over 480 m².
Thanks to her brilliant white face, she is easily recognizable from a distance. The architectural style – due to the white color and the ornamental structure – is also called a "confectioner's style". The color comes from the Château Landon stones used. These frost-resistant travertine stones release calcite, i.e. calcite, depending on the weather, which leads to a chalk-like, bright white color of the building.
View from the dome over all of Paris
From the 55 meter high dome you have a fantastic view and a great 360 ° panorama of Paris. In good weather you can see up to 40 km.
You can reach the Sacré-Cœur via the stairs that lead through the park in front of it. The stairs are very popular with tourists. Alternatively, you can also take a funicular to get to the basilica (Funiculaire de Montmartre).

The picturesque surrounding Montmartre district invites you to linger with its many cafes, street artists and small shops. Take your time to explore the area.
Opening hours
Basilica: daily from 6 a.m. to 10.30 p.m.
Dome and crypt: daily from 8.30 a.m. to 8 p.m. (from May to September); 9 a.m. to 5 p.m. (from October to April)
Entry
Entry is free.
You have to pay an entrance fee to visit the crypt and the cathedral.
Address
35 Rue du Chevalier de la Barre, 75018 Paris, Frankreich
Tickets and tours