Arc de Triomphe de l'Étoile
At the end of the Champs-Elysées on the Place Charles de Gaulle is the Arc de Triomphe de l'Étoile, a landmark of the metropolis of Paris. In addition to the Eiffel Tower and the Louvre, the Triumphal Arch is one of the most important sights in Paris. Here you will find information for your visit. You can reach the Arc de Triomphe via a pedestrian underpass from the Champs-Elysées to the "Arc de Triomphe".
Arc de Triomphe by Napoleon
It was Napoleon who, after the victory of his armies in the Battle of Austerlitz, had the triumphal arch built in honor of the Grand Armée at the end of the Champs-Elysées in 1806. The foundation stone for this symbolic monument was laid on August 15, 1806 under the direction of the architect Jean-François Chalgrin. However, the construction work has meanwhile been stopped due to the abdication of Napoleon. It was not completed until 1836 under King Louis-Philippe.

The triumphal arch is today 49.54 m high, 44.82 m wide and has a depth of 22 m.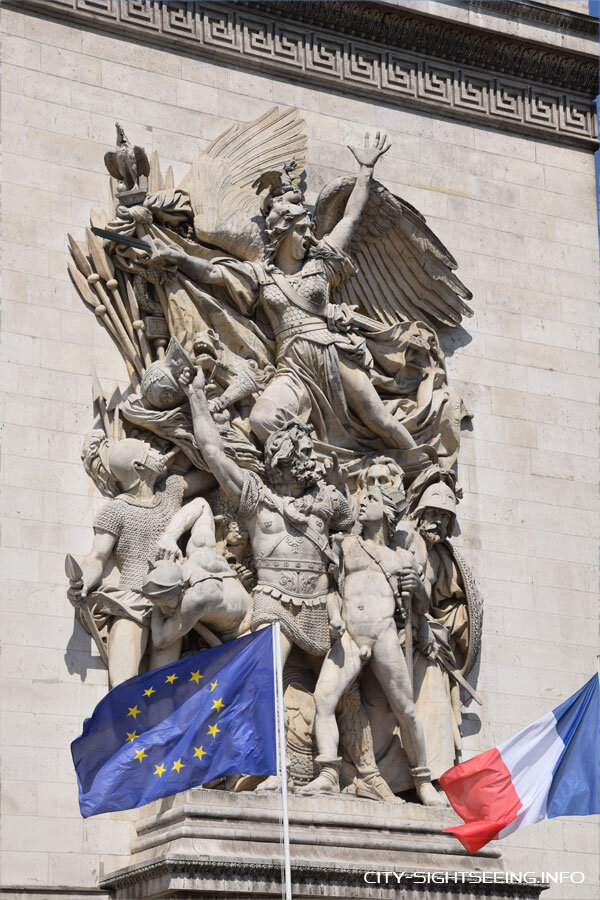 Reliefs by the sculptors Antoine Étex, Jean-Pierre Cortot and François Rude
The triumphal arch is also famous for its reliefs. Among other things, you will find the relief "Marseillaise" by François Rude (1784-1855) on the east facade. On the west side you will find, among other things, the relief by Antoine Etex "Triumph Napoleon after the peace of 1810". On the inside of the triumphal arch you will also find the names of the great battles of the Empire and the Revolution, as well as the names of the personalities of that time. The names of the people who fell in battle are underlined.
Under the arch is the tomb of the unknown soldier from the First World War. They are remembered by an Eternal Flame, which is maintained daily, in French called Flamme du Souvenir (German: Flamme of Remembrance).
Arc de Triomphe | View over Paris from the observation deck
The view from the Triumphal Arch is definitely a highlight. All you have to do is climb 284 steps via a steep spiral staircase. As a reward, you will receive a unique panoramic view over the Champs-Élysées from the terrace on the roof of the triumphal arch. See the great sights such as the Eiffel Tower, the Champs Elysées, the most magnificent street in the world, Notre Dame, Sacré Coeur and many more.

Interesting: From the Place Charles de Gaulle, where the Arc de Triomphe is located, 12 avenues go in a star shape in all directions.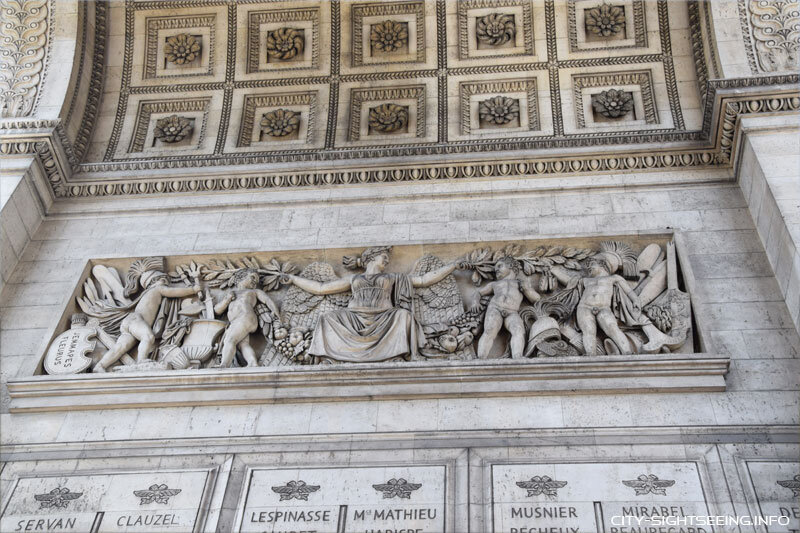 Address
Place Charles de Gaulle, 75008 Paris, France
Opening hours
April 30th – September 30th: 10 a.m. to 11 p.m.
October – March 31: 10 a.m. to 10.30 p.m.
Entry
Adults: € 12
Reduced: € 9
Free admission for young people under the age of 26 who come from EU member states
Tickets & tours to the Arc de Triomphe