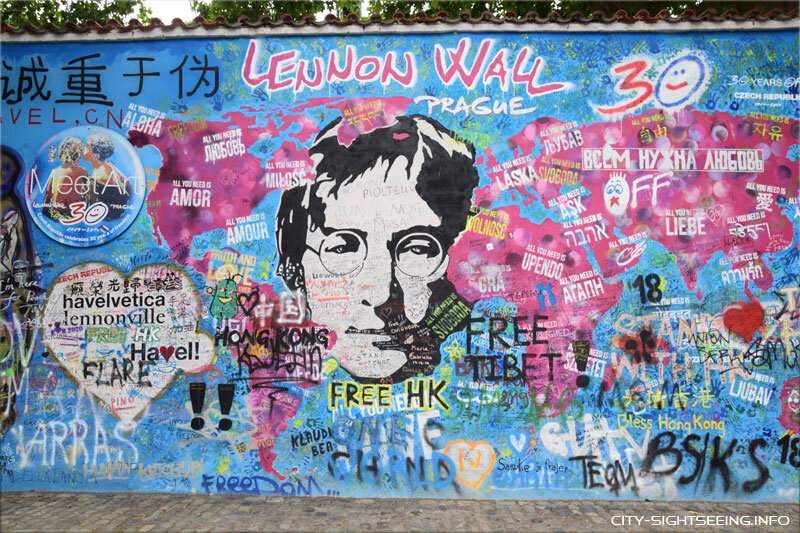 One of the most well-known and colorful landmarks in Prague is the John Lennon Wall. This street art and graffiti wall is dedicated to John Lennon and his message of peace. It features numerous love poems and political messages inspired by John Lennon and the lyrics of the Beatles.
John Lennon Wall | Street Art and Graffiti Wall in Prague
Located across from the French Embassy, the John Lennon Wall was first adorned with love poems and political messages in the 1960s. After John Lennon's assassination in 1980, the wall filled with a variety of messages, drawings, and vibrant graffiti. This distinctive wall belongs to the Order of Malta.
During the communist rule in Czechoslovakia, John Lennon's music and his message of peace resonated strongly with the young population striving for freedom and change. Despite repeated attempts by the government and authorities to paint over the wall, the graffiti persisted, becoming a symbol of rebellion and freedom.
The John Lennon Wall has evolved into a cultural and social phenomenon, attracting people from around the world. The diversity of messages, drawings, and colors on the wall reflects not only admiration for John Lennon but also a desire for peace, freedom, and creative expression. Nowadays, the wall is not just a place to remember the legendary musician but also a living artwork continually shaped by visitors and artists from all over the world.
Address
Velkopřevorské nám., 118 00 Malá Strana, Czech Republic
Opening Hours
The wall can be visited at any time as it is a public wall in Prague.
Admission
Visiting the John Lennon Wall in Prague is free, as it is a public wall that anyone can freely visit and explore. It is open to the public.
Tickets / Admission & Guided Tours