Owned by Wat Phra Kaeo, built in the late 18th century on the site of the Royal Palace to the main temples and Sights of Bangkok. It houses the world-renowned and famous Emerald Buddha, the national shrine of Thailand.
Wat Phra Kaeo with Emerald Buddha
Wat Phra Kaeo is one of the most important temples in Bangkok. If it is not even the most important temple. Because here you will find the national shrine of Thailand, the Emerald Buddha. This is not – as the name would suggest – made of emerald, but a Buddha made of jade. The Buddha himself is only 66 centimeters tall and sits on a gilded throne. However, it has an important religious significance. It is said to have magical powers. There are countless myths and legends surrounding the mysterious and precious statue.
Components of the temple
The temple was built by King Rama I in 1784 as a royal temple. It was part of the area of ​​the old royal palace in Bangkok. Over time, several alterations were made to the temple. Today's temple includes several components:
The Chapel of the Emerald Buddha, south of the Upper Terrace
The Phra Ubosot surrounded by a low wall, the Jewel Wall
12 Sala Rai,
Hor Rakhang, a clock tower

Upper Terrace with 4 main monuments (Phra Sri Rattana Chedi, Phra Mondop, Prasart Phra Thepbidorn, Miniature Model of Angkor Wat, Two Gold Chedis and fourteen statues of mythological beings )

four monuments of the Royal Regalia (Phra Borom Ratchasanyarak) on the sides of the library

Annex (North below Upper Terrace) with Hor Phra Nak (Royal Family Mausoleum), Viharn Yod, Hor Phra Monthien Dharma (Manuscript Library)

East of the Upper Terrace, east of the Ubosot are eight prangs dedicated to important elements of Buddhism

The galleries (Phra Rabieng) surround the entire temple area like a cloister. The Ramakien (the great Hindu epic about the god hero Rama and his victory over evil) is told on a total of 178 fields.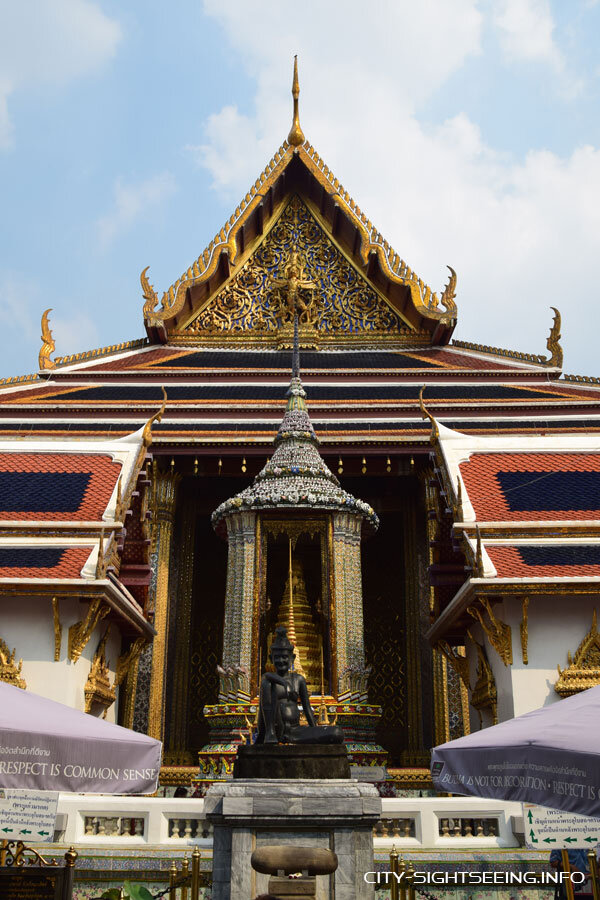 Visitor numbers
There are no figures for this.
Address
QF2V+M34, Na Phra Lan Rd, Phra Borom Maha Ratchawang, Phra Nakhon, กรุงเทพมหานคร 10200, Thailand
Opening hours
daily from 8:30 a.m. to 3:30 p.m
Tickets
Tickets & Tours