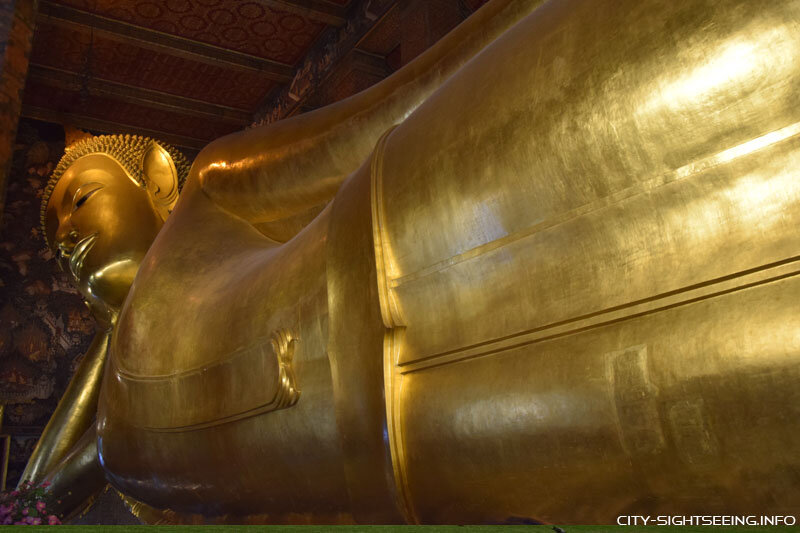 South of the Royal Palace is the temple Wat Pho, which houses the 46 meter long viharn of the Reclining Buddha houses. The temple is one of Bangkok's most important sights.
Wat Pho with reclining Buddha
The Buddhist temple Wat Pho is located in the center of historic Bangkok, south of the grand palace. The wat is said to have been founded as early as the 17th century. King Rama I expanded and renovated the temple and gave it its current name. All the kings of the Chakri dynasty who followed him also expanded the complex. The complex includes several attractions:
Phra Ubosoth
Viharn of the Reclining Buddha
Phra Maha Chedi Si Ratchakan
"Open University"
The main sight and main attraction is the famous 46 meter long and 15 meter high gilded reclining Buddha statue. It is located in the Viharn of the Reclining Buddha. It is not the largest Buddha statue. There are quite a few in Thailand. However, it is one of the most beautiful and famous in Bangkok. Convince yourself on site. It is impressive.
Another important sight is located in Phra Ubosoth. There you will find Phra Phuttha Thewa Patimakon, an Ayutthaya-style seated Buddha statue that contains the remains of King Rama I in the base.
Visitor numbers
There are no figures for this.
Address
2 Sanam Chai Rd, Phra Borom Maha Ratchawang, Phra Nakhon, Bangkok 10200, Thailand
Opening hours
open daily from 8.00 a.m. to 6.30 p.m
Tickets
Tickets & Tours