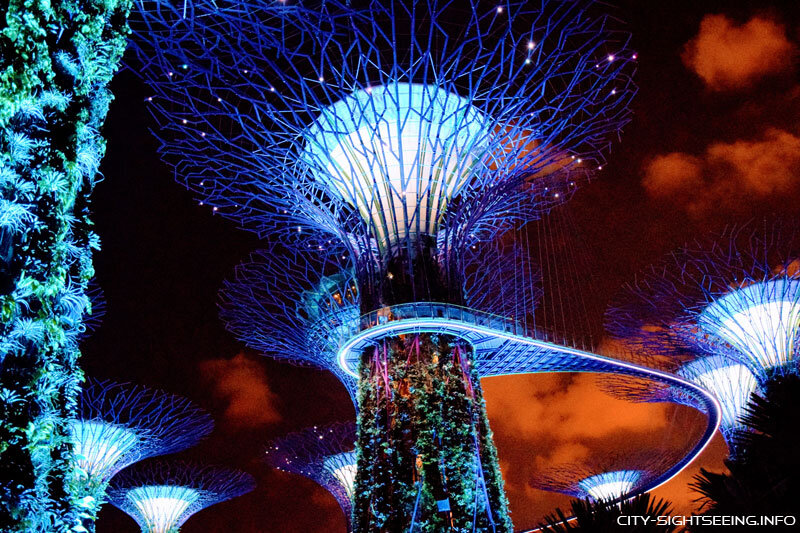 Also approximately 101 hectares is the park area "Gardens by the Bay", which is one of the major sights and most popular tourist attractions in Singapore counts. In particular, the Super Trees, steel structures overgrown with plants and between 25 and 50 meters high, are among the highlights of the park.
Gardens by the Bay
The aim of the Singapore government was and is to improve the quality of life of the residents with the park through green spaces. Gardens by the Bay is thus intended as a recreational area for the city dwellers. But today it is also one of the great sights of the city. The park includes several areas, which were gradually completed. The park went through several phases of construction and transformation. Further extensions are planned.
Areas in the park
Bay Central Garden – The area of ​​15 hectares and a 3 km long waterfront that connects the Bay East Garden and Bay South Garden areas
Bay East Garden – Prepared for the Summer Youth Olympic Games, this area covers 80 acres and includes a 1.2-mile boardwalk around the Marina Reservoir.
Bay South Garden – In 2012 this 54 hectare section was completed. It also includes two glass-enclosed artificial biotopes.
Flower Dome – This is the largest glass greenhouse in the world. Covering 1.28 hectares, the Flower Dome was recognized by the Guinness Book of World Records in 2015 as the largest glass greenhouse in the world.
Cloud Forest – The Cloud Forest is a 0.8 hectare glass house in which the vegetation zone of the tropics is recreated at altitudes of approx. 1,000 to 3,000 meters above sea level.
Super Trees – the plant-covered steel structures with heights between 25 and 50 meters, Super Trees are visual highlights, especially at night. They are used, among other things, to grow rare plants.
Children's Garden – The Children's Garden with attractions for children and young people and an adventure trail was completed in 2014.
Bayfront Plaza and Floral Fantasy – Bayfront Plaza is the main entrance area to the Gardens, featuring the Floral Fantasy attraction, which consists of four floral art garden landscapes and a 4D multimedia ride.
Visitors per year
The park is one of the most popular tourist attractions in Singapore. The park sees several million visitors every year. Up to and including 2018, over 50 million people visited the park.
Address
18 Marina Gardens Dr, Singapore 018953
Opening hours
daily from 5 a.m. to 2 a.m
Tickets
Tickets & Tours